"Don't forget your bag!"
"Tie your shoes!"
"Can you move any faster?"
"Brush your teeth as fast as you can!"
Sorry for that last one, dental hygienist friends.
For kids, going back to school brings new backpacks, school supplies, not-yet-covered-in-dirt tennis shoes and "bouquets of freshly sharpened pencils" (to quote my favorite movie, You've Got Mail). It brings anticipation of new teachers and friends, excitement about recess and art class and wonderment of all the new things this school year will bring.
For parents, kids going back to school makes us question so many things.
"Did I do enough fun activities with my children over the summer?"
"Will she have friends to sit with in the cafeteria?"
"Will he make the basketball team this year?"
And the one closest to my heart this year: "Will we ever get our morning routine down to get out the door on time?"
New (School) Year Resolutions
The week before school started, I promised myself that I would do my very best to make our school mornings as relaxing as possible. I worried about it. I prayed about it. It was on my heart daily. The next week, my second grader's teacher told us something at our parent meeting that really struck a chord with me.
She said, "If you're stressed and rushing in the morning, your children will be stressed and rushing in the morning, and that's how they'll come into the classroom."
How did she know exactly what I needed to hear? (It's because she's a teacher and teachers have actual superpowers).
Avoiding the Stress and Rush
That day, I made a plan to conquer the mornings this year. Life dictates that, yes, my children will still have struggles with something surrounding school this year. But I am determined to prevent the mornings before school causing those struggles.
Plan ahead. Do everything you can the night before. This includes signing folders, packing lunches, finding snacks, laying out clothes, choosing hairstyles and filling water bottles. This also includes getting my things ready. I can't tell you how much time I've saved by packing my lunch and picking out my own outfit the night before.
Delegate. Give your children some responsibilities. I completely failed on this last year, but this year I've realized that my kids are more than capable of taking on some of the important tasks. They can lay out their own clothes the night before, they can choose their own snack (I have a big bowl in the pantry where I toss all snack choices) and they can make sure their folders are in their backpacks.
Set goals for the morning. For example, I know that in order to make my morning run smoothly, I need to be dressed and doing my own hair by 6:30am. We need to be eating breakfast at 7am, and we need to be heading out the door at 7:15am.
Pray, pray, pray. Pray for peace before school, pray with your kids on the way to school and say a prayer of thanksgiving after you drop them off on time.
Then pat yourself on the back for your eight-day, on-time streak!
You've Got This
I pray all of you have a smooth transition into this new school year. And when your on-time streak ends and you have that one crazy morning that pushes you late, cut yourself a little slack and remind yourself that at least you got them out the door with their teeth brushed… hopefully.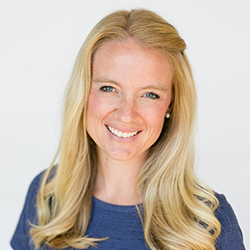 Jamie is the Kids' Minister and Day School Director at Hendersonville Church of Christ. A part-time Royals fan and hobbyist photographer, Jamie attended Harding University and received a degree in Early Childhood Education. This led her to teaching kindergarten and first grade before joining the staff at Hendersonville as Day School Director. Jamie is married to Kevin and they have two children, Hallie and Will.