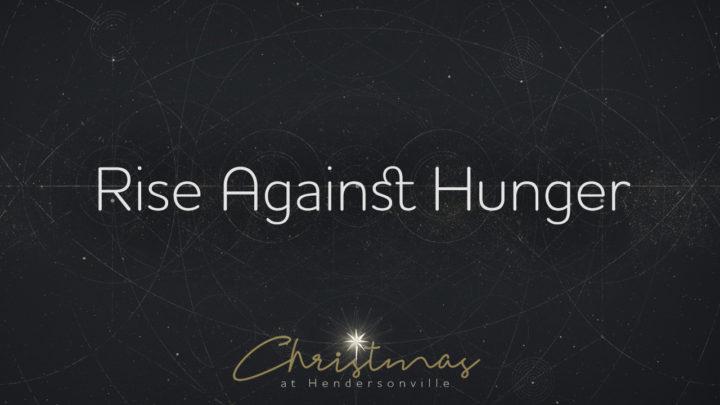 On December 1, our Student Ministry is partnering with Rise Against Hunger and our students are packing over 10,000 meals for people in need throughout the world. Each meal costs about $0.30 to make and has every nutrient that a person needs. We are raising about $3,400 in the next month to cover the cost of the food. Prayerfully consider donating towards this project and pray for our students as they step up in the fight for the Kingdom of Heaven.
Fundraising Events
All funds above cost go to Rise Against Hunger.
Wednesday, November 20, 5:30pm – Student Ministry Rice and Beans Night. We are providing a Wednesday night meal in the Student Center with just rice and beans. This simple meal serves the purpose of raising funds and raising awareness about what a meal looks like in a large section of the world. We ask that those who come to dinner donate the amount of money normally spent on a meal with family.
Saturday, November 23, 5–7pm – Parent Date Night. With the holidays on the horizon, we are providing a date night for the busy parents of Hendersonville Church of Christ. Our high school students, along with one of our student ministers, MacKenzie Lewis, are babysitting your children in the Student Center from 5-7pm on Saturday, November 23, with a suggested donation of $10 per child. Register for Date Night below.
Sunday, November 24, before and after classes – Student Ministry Breakfast Bake Sale. Visit the students in the Back Lobby for different breakfast items available for purchase. Students are also visiting all adult classes before class with a cart full of breakfast items for sale.
Sunday, December 15, 3–6pm: The Student Ministry provides a Hot Chocolate Bar at Snacks with Santa and at the Day School Christmas Program. Donations accepted.
Sunday, December 22, 8:30–9:45am: Family Breakfast. Our traditional Christmas family breakfast is hosted by the Student Ministry this year. Donations accepted at the door.
Parent Date Night Registration