Wow. What a week we have had. We went from having every day of the week precisely planned and scheduled to having our lives turned upside down, and our days are now filled with a lot of free time.
If I could offer one piece of advice to all of us during these unusual times, it would be this: show grace to everyone.
Some of us may feel like all of this time is a gift, and we can't wait to spend some good, quality, uninterrupted days with our families, and that's wonderful. But some of us may be mourning things we are missing, like our kids' school and sports events, and it's ok to be sad about that, too.
Some of us have already made schedules for our days to keep our kids in a routine. That's awesome. Then, some of us have let our kids hang out in their pajamas for days on end. That's awesome, too!
Some of us take deep comfort in reading everything we can about what's going on in our nation, and some of us would rather just not know all the details.
No matter how we are reacting to everything around us, one thing is certain: our kids are watching our every move. This is just as challenging for them as it is for us. They are aware that things are different and they're looking to us for guidance and reassurance. Hug them. Pray with them and for them. Read with them. Play 37 games of Uno with them.
At the end of these incredibly long days, take comfort in the fact that the hardest decision many of us have to make is whether we watch Netflix or Disney+.
"Don't worry about anything; instead pray about everything. Tell God what you need, and thank Him for all He has done. Then you will experience God's peace, which exceeds anything we can understand. His peace will guard your hearts and minds as you live in Christ Jesus." – Philippians 4:6–7 (NIV)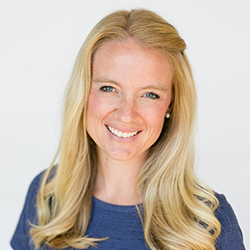 Jamie is the Kids' Minister and Day School Director at Hendersonville Church of Christ. A part-time Royals fan and hobbyist photographer, Jamie attended Harding University and received a degree in Early Childhood Education. This led her to teaching kindergarten and first grade before joining the staff at Hendersonville as Day School Director. Jamie is married to Kevin and they have two children, Hallie and Will.