I don't know about you, but with all of this time at home I have been working hard to make sure my kids don't have too much TV time. (Oh, there's definitely TV time. I said I'm working on it, not that I've mastered it). However, one thing we've enjoyed is sitting down together in the evening and watching a movie every now and then. Like many of you, one of those movies we chose to watch was Disney/Pixar's new film, Onward.
Onward is by no means my favorite Disney movie. It probably doesn't even break into the top 20, but there are a couple of things that have stuck with me since watching it. Without spoiling anything, the movie is about two brothers, Barley and Ian, who go on a quest to find a way to bring their deceased father back for just one day. In the movie, the older brother, Barley, is obsessed with magic. He knows it once existed and he thinks it could still exist today. He spends his time, much to his mother's dismay, researching magic, playing games about magic and talking to everyone he knows about magic. Ian, the younger brother, seemingly is the opposite of Barley and wants nothing to do with magic.
As it turns out, they discover that Ian has magic within himself, and Barley has none. Here's what caught me off guard: Barley never acts jealous of Ian's newfound magic. This is something that he has dreamed about his entire life, only to find out that his brotherhas the gift. Yet, instead of spending his time whining and complaining with envy, he immediately chooses to celebrate his brother's new discovery!
It reminds me of our theme Bible verse for our Kids' Ministry: 1 Thessalonians 5:11.
We have it painted on the wall upstairs, and we talk about it with the kids all the time. We, as adults, can benefit from reading this verse over and over again, as well. How often are we too busy thinking about what we haven't accomplished to celebrate what others have accomplished? The lesson of Barley reminds me of a similarly named Bible character with who many of us are familiar: Barnabas, the "Son of Encouragement" (Acts 4:36). If you grew up in the church, you were probably told to "be a Barnabas" more than once.
In a world where building yourself up is a common practice, I challenge you to choose to be a Barley (or a Barnabas) and focus on encouraging and building up others.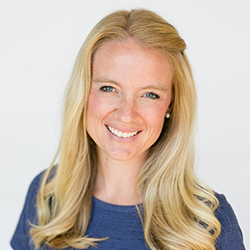 Jamie is the Kids' Minister and Day School Director at Hendersonville Church of Christ. A part-time Royals fan and hobbyist photographer, Jamie attended Harding University and received a degree in Early Childhood Education. This led her to teaching kindergarten and first grade before joining the staff at Hendersonville as Day School Director. Jamie is married to Kevin and they have two children, Hallie and Will.