Under the circumstances of recent events, we officially hosted our first online ELEVATE with our students. We decided to give our students a platform to share encouraging verses from Scripture and the response was amazing. More than 20 different verses were shared to inspire and lift up the spirits of our students.
Joshua 1:9. Exodus 14:14. John 16:33. Romans 8:31–39. Philippians 4:4–9.
On and on. Scripture after scripture filled up the comments of our Instagram Live session.
We read. The Lord spoke. We listened.
It should not have been as surprising to me as it was, but to behold the power that the Word of God has to offer us when it is read aloud was an incredibly humbling experience to share with our students. It gave us the opportunity to soak up the texts that God speaks into our hearts. So often when preparing a lesson, I worry about saying the right thing or finding the funniest and most clever comparison to help make more sense of His Word for our students. There is no issue with being prepared and trying to open student's minds as I teach, but this experience reminded me that God's Word is indeed powerful and effective.
Psalm 34 was one of the shared texts in our livestream and those words have brought me life over the last few days. In the suffocating darkness, I think we would all agree that it isn't the easiest time to trust in God's goodness. I think many of us are asking questions like "Why is this happening?" or "What is God's purpose?" sometimes even "Where is God in all of this?"
Maybe you have been asking some of these questions or something similar throughout the daily update and revealing of the world's current events. If so, or even if not, I want to encourage you to let these words from Psalm 34 remind you that He is good, and the only thing worthy of our fear is the Lord himself. He, as Jesus shares with His disciples in His last moments with them before the cross, has overcome the world.
God is good. He is always good. He will never not be good.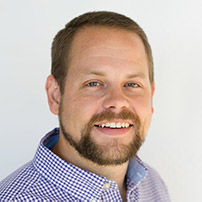 Shelby is a Student Minister at Hendersonville Church of Christ. He married his wife, Jessi, in 2008. They are parents to three sweet (and rowdy) children, including two girls, Ezra Kate and Eli Reese, and one boy, Knox. Despite his brokenness, Shelby strives to show students the love of Jesus and give them the opportunity to grow deeper into a relationship with the Lord.