Today is June 23. It's a day that I, as a child, looked forward to for the entire year. And it's a day that I, as an adult, often forget is coming. Today is my birthday. As a child, I had my party planned out months in advance, I knew what gifts I wanted, what special treat I wanted my mom to bake and turning a year older was so, so exciting. This year, on two different occasions I had to stop and calculate how I old I would be turning because I couldn't remember.
What causes that change? Is it the uncertainty of getting older? The busyness of life? The slightly less egocentric attitude? It may be a mixture of all of those. But for all of the changes, when the big day actually I arrives, I find myself taking a moment to think about everything I'm thankful for.
Thankfulness is something we teach our kids at an early age. We really tend to focus on it during the month of November and maybe a few other times of the year (for me, my birthday). But how often throughout the rest of the year do we pause to remember and thank God for all that we have?
We've all heard the phrase "Have an attitude of gratitude". Attitude is a choice. We can't always control our circumstances, but we can control our reactions to our circumstances. How do we achieve that attitude of gratitude? We can jot down things we're thankful for (turning another year older, for instance), share what we're thankful for with friends and family, or send thank-you cards to people. A study from the University of Pennsylvania found that people who wrote and delivered a heartfelt thank-you letter actually felt happier for a full month after!
1 Thessalonians 5:18 says, "Be thankful in all circumstances, for this is God's will for you in Christ Jesus." Paul basically tells us to have an attitude of gratitude! Take a minute today to think about things you're thankful for. Share them with someone. (Share them with me!) And the next time your birthday rolls around, make an even longer list of gratitude, and focus on that instead of the fact that you're turning a year older, as I'm going to attempt to do today.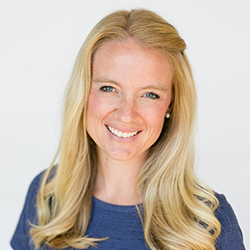 Jamie is the Kids' Minister and Day School Director at Hendersonville Church of Christ. A part-time Royals fan and hobbyist photographer, Jamie attended Harding University and received a degree in Early Childhood Education. This led her to teaching kindergarten and first grade before joining the staff at Hendersonville as Day School Director. Jamie is married to Kevin and they have two children, Hallie and Will.