Let the words of this song lift you up today as you stay home. We are on day number… I cannot remember at this point and it is likely you are right there with me and everyone else. It is strange and there are many other descriptors I have used for #Quarantine2020:
Words such as "weird" or "challenging", or even "exhausting" and "draining" (both emotionally and physically). Definitely "out-of-sync." At times I've described this time as "encouraging", when I look hard at the ways we are doing our best to overcome, and "hopeful", when I see the kindness that humanity does indeed still possess.
I could probably go on, but it's not the point of what I write. The most recent word that continues to replay in my head over and over for the last week and a half is "unfair." This thing, this time, this whole experience has been completely unfair in a number of ways to so many different groups of people.
It's unfair that our schedules have been taken over. It's unfair that so many have lost their jobs and are hurting financially. It's unfair that healthcare workers, first responders and other essential workers are operating around the clock to serve a community who needs them now more than ever.
It's unfair to the student who had knee surgery and was for nine months unable to play the sport he loves. Then unfairness continued when, able to return to the field, he found out that Covid-19 had cancelled the rest of his soccer season.
It's unfair to the senior who looked forward to this milestone for 13 years through grade school. Graduation day, senior prom and all the exciting fanfare surround that final year. All was cancelled. Not postponed but simply taken away.
It's unfair to the first-time mom and dad who are due to have a baby in a couple of weeks. It's supposed to be a time when everyone gets to celebrate you and your child. A time to shower you with their presence and love—holding your child and loving them with physical touch. But with a due date in late April 2020, it will be a silent room in labor and delivery with no visitors allowed.
It's unfair to the family whose husband and dad suddenly becomes ill and goes to the hospital. They know they must be socially distant as they watch and learn the health status of the person they want to embrace with all their being. Then it is unfair even further when they cannot spend the last days on this earth with someone they love as deeply as a daddy, and as affectionately as a husband and best friend.
That is the epitome of this word, unfair.
We have likely all experienced a "stone that makes you stumble." We have been cut. We have been struck. We have been cursed. We are on our hands and knees crawling through this nightmare of an experience in some way or another. If you are like me, maybe you have even felt as if the enemy could possibly feel as if he is winning. Yes, I admit and confess, I have felt this over recent weeks.
However, I assure you and myself: he is not. He will not. Because he hasn't.
Jesus is risen. He is victorious. This "king of love one day will crush them all." He will crush all our negative experiences, all of our hardship and trials, all of our pain and losses. He will crush everything that was ever unfair. He will crush them all.
We will rise up in the end because He is risen indeed.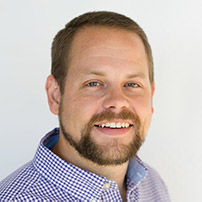 Shelby is a Student Minister at Hendersonville Church of Christ. He married his wife, Jessi, in 2008. They are parents to three sweet (and rowdy) children, including two girls, Ezra Kate and Eli Reese, and one boy, Knox. Despite his brokenness, Shelby strives to show students the love of Jesus and give them the opportunity to grow deeper into a relationship with the Lord.